The Voigt House was built by Carl Gustav Adolph Voigt in 1895. Carl came to the United States in 1843 from Germany with parents and four younger brothers. They first settled in Michigan City, Indiana. When Carl was nineteen, both his parents died. He had to get a job and take care of his brothers. He worked at a grocery store.
Two years later he got a new job as a clerk in a dry goods store and the next year he married. However, his wife got sick, died, and left him with a baby boy. Carl became a U.S. citizen in 1859. He continued to work in the store and in 1860 he married Carl Elizabeth Wurster. Their first child, Franz Adolph, was born the following year just a few months after the Civil War started. He did not want to fight in the Civil War and hired a substitute to take his place. Carl and Elizabeth had two more sons that died in infancy.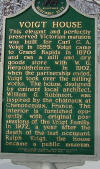 After the Civil War ended, Carl and a friend, William Herpolsheimer, went into business together and opened a store in Michigan City. That same year his oldest son from his first marriage died.
William Herpolsheimer moved to Grand Rapids in 1870 and opened a dry goods store. Carl stayed in Michigan City with his wife and three daughters named Clara, Emma, and Amanda. In 1875, Carl sold the store in Michigan City and moved to Grand Rapids with his daughters and son, Carl Simon. He became a partner with William Herpolsheimer in the Star Four Mill. Two more children were born to the couple in Grand Rapids, a daughter that died and Ralph Arthur who was born in 1882.
In 1895 at the age of sixty-two, Carl decided to build his retirement house at 115 College Avenue. Frank was the only child who did not live in the house because he was already married. Amanda was married at the house and both Carl Simon and Clara returned to live in the house in the

early 1900ís. Emma and Ralph never married and lived at the house most of their lives.
In 1902, Mr. Voigt and Mr. Herpolsheimer decided to end their partnership. Mr. Voigt kept the mills and Mr. Herpolsheimer continued to run the dry goods store. Mr. Voigt died in 1908 and the house was passed onto Emma when Mrs. Voigt died in 1929. Both Emma and Clara died in the early 1950ís. The remaining children closed the mills in 1955 and Carl Simon died a few years later. Ralph lived alone in the house until he died in 1971 and left the house to the Grand Rapids Foundation. In 1974 the house was purchased and donated to the City of Grand Rapids and the Public Museum.
To learn more about the Voigt House and how to take a tour with your parents or teacher go to http://www.grmuseum.org/voigt/index.htm