Civic Theatre -

Have you ever heard of the Civic Theater in downtown Grand Rapids? Maybe you have heard about the Majestic, which was once a movie theatre that occupied the Civic Theatre Building.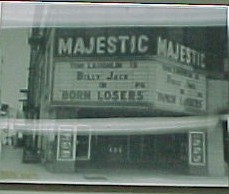 The building that the Civic Theatre now occupies was built in the Grecian architecture style in 1903. Next year the building will celebrate its 100th anniversary. There werenít any post or pillar in the theater which allowed everyone to see the stage. Colonel J. M. Wood was the architect of the structure and Echert Brothers did the interior decorating. The theater had a seating capacity of about 1700. The balcony alone could seat approximately 600 people on wooden benches.
Today the Civic Theatre is made up of four different buildings. The scene shop, which has an 18-foot high ceiling, was once the Botsford Building

that housed Grinnellís Music. The costume shop used to be the lobby of the old Majestic Movie Theatre. Did you know that it was possible to drive a team of horses from the street directly upon the stage? The theaterís stage used to be the largest in the state. On one side of the entrance to the theatre, there used to be a store that sold cigars, candy, and flowers.
The Grand Rapids Civic Theatre is celebrating its 76th season this year. It is the largest community theatre in Michigan and the third largest in the United States. A community theatre does not pay the actors. They volunteer their time and talent.
In the beginning the Civic Players performed in many different buildings such as St. Cecilia, Ladies Literary Clubhouse, and finally moving to the Majestic Movie Theatre building in 1979. Mr. Paul Dreher, Civic Theatre Director at the time, headed the renovation of the building by the Owen, Ames and Kimball Construction Company. The theatre and three other buildings were connected to provide the needed space for scene building, costume storage, dressing rooms, and classrooms. This new Civic Theatre opened to the public in October 1979. Now more than 100,000 people attend plays there each year.

For more information on theater arts go to www.grct.org .